Forza1 North 14U Tryouts Volleyball
Important - PLEASE READ! New Registration Software is being used for all Forza1 Tryouts! All customers, including current/existing members, need to create a NEW account to register for Tryouts. Here is a video to explain the process if you want guidance. If you have any problems navigating the new system please contact admin@forza1volleyball.com or call him at 818-216-5566. You only need to create a new account 1x and it will take 3-5 minutes. The new software is very user friendly, efficient and easily accessible by phone. We trust you will enjoy this new interface and dashboard!
Please review the following "how to register" video before starting the process.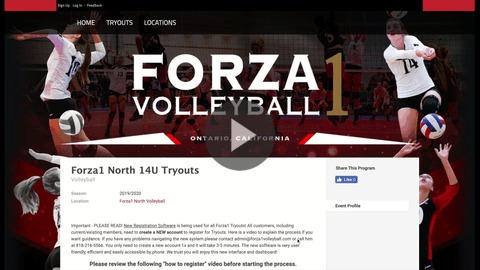 Use the form below to filter by sport, season, day(s) and/or location; or scroll to view all programs.
---
Individual Fees

Regular

$25.00

Individual Fees

Regular

$50.00

Individual Fees

Regular

$50.00

Individual Fees

Regular

$40.00

Individual Fees

Regular

$25.00

Individual Fees

Regular

$50.00

Individual Fees

Regular

$40.00

Individual Fees

Regular

$25.00

Individual Fees

Regular

$50.00

Individual Fees

Regular

$40.00

Individual Fees

Regular

$25.00

Individual Fees

Regular

$50.00

Individual Fees

Regular

$40.00

Individual Fees

Regular

$25.00